Intro to Vue: Week 5
Intro to Vue: Week 5
Create a scene using a volumetric light and a material i have created or mixed; adjust atmosphere & render settings.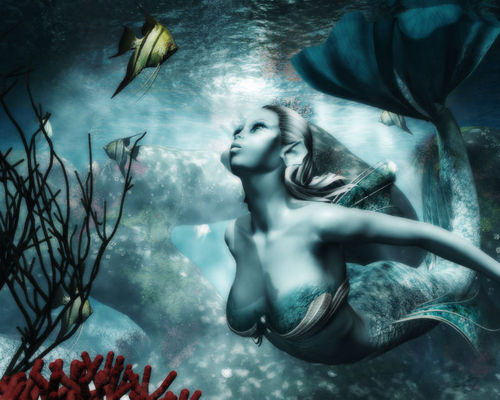 Mermaid Reef
Victoria 4 with creature creator(daz), lost realms V4 (daz) - i added bumps, wet hair(daz), aurora mats by lavonne (renderosity)
Aquatica Reef (daz), i added bumps and a sandy material mixed in.
Scalar Fish (added bump), coral and seaweed (redid bump) are native to vue.
1 point light, 1 volumetric spotllight (with caustic gel i made), 1 normal spotlight hitting only the mermaid, 1 procedural terrain, 1 infinite water plane
User settings - render took 1 hours, 37 minutes (i rounded the seconds up)
All images copyright: Midnight Moon Designs